Top 5 Valentine's Date Ideas In McKinney Texas (2020)
Valentine's date ideas can be tricky and the clock is ticking.  Don't fret!  McKinney has some of the sweetest Valentines experiences for you and your honey!  And remember, Valentines Day isn't all about romantic love – it is a day to celebrate our love for…well…all the things we love: friends, family, sweets, wine, and music!
Get out of those Netflix/takeout habits, and love the experiences happening in your backyard!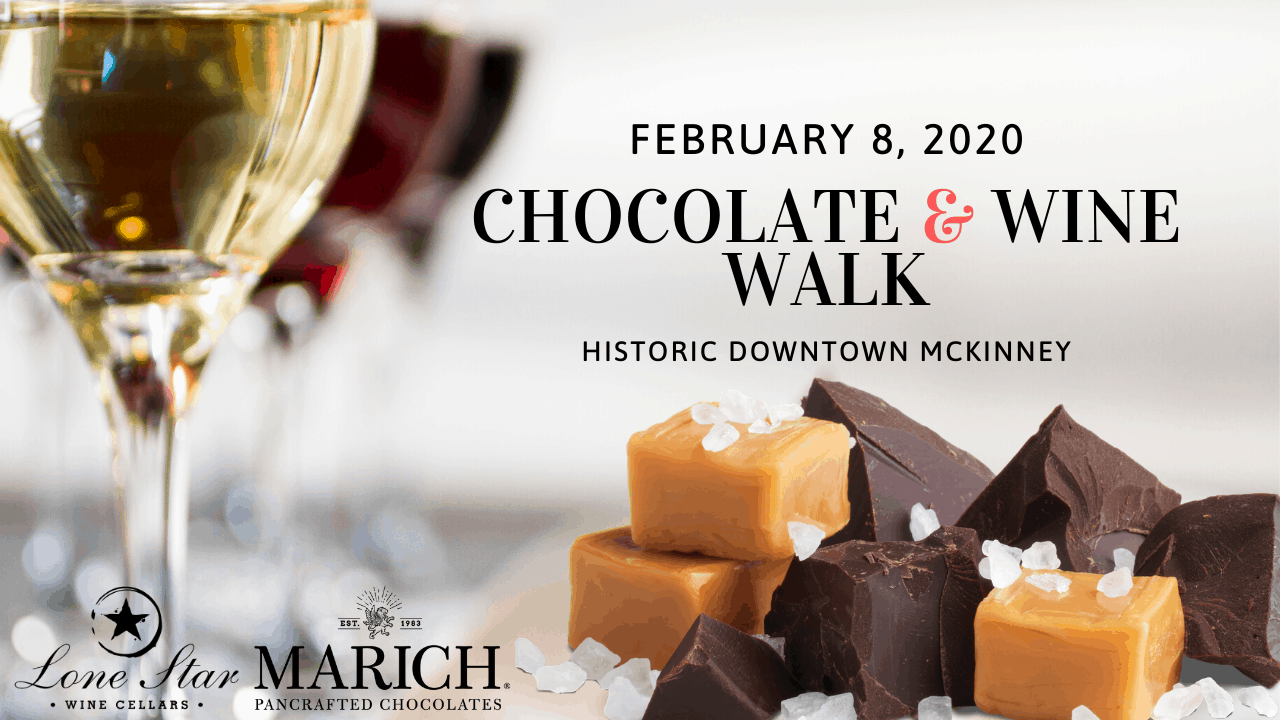 Saturday, February 8th, 2-7 pm – Historic Downtown McKinney
Celebrate your love for chocolate, wine, and shopping! Indulge in a free chocolate tasting compliments of Marich Chocolate Company while exploring the charming shops of Downtown McKinney. Double down and turn this Valentine's date idea into a chocolate wine pairing by purchasing the 2nd option (Chocolate and Wine Walk) for $20 + tax which includes a souvenir wine glass and wine passport for 10 tastes of hand selected Lone Star Wine Cellar wines paired with Marich's decadent chocolates.
At this Valentines Chocolate Wine Walk, delicious pan-crafted chocolates made with love are paired with a taste of premium wine and distributed to 20+ charming shops of downtown McKinney.  Click here to purchase tickets on Eventbrite!

Saturday, February 8th, 4-8 pm – Jasper and Petals
2nd Saturday in Downtown McKinney is starting to bring about the most unique experiences to spice up your weekends and Jasper and Petals is bringing the most over-the-top experience this Valentines!  Drop everything you have going on Saturday, February 8th because Jasper and Petals is filling their studio space with BUNNIES!  Yes Bunnies!  Ohhh… And Wine!  These bunnies are looking for homes from the North Texas Rabbit Sanctuary and Jasper and Petals is raising money to support the rescue and care of these little fluffy friends.
Score big with this unique surprise date idea!  Enjoy tastings of Beaujolais while you sip, pet, and shop!

Saturday, February 15th 8-11 pm – The Guitar Sanctuary
Celebrate Valentine's Day with the one you love at the "Love the One You're With" concert featuring the Maylee Thomas Band and Jon Christopher Davis on Saturday February the 15th at 8PM (doors open at 7) at The Sanctuary Music & Events Center.  The musical talents of these bands are widely loved across America and have a strong influence on the potential of McKinney being recognized by the state of Texas as a "Music Friendly Community".
This act is at the top of the charts!  Check out multiple ticketing options here. All tickets include complimentary desserts and coffee.  A full cash bar with snacks will be available for purchase.

Saturday, February 15th 7-11 pm – Stonebridge Ranch
Treat yourself like royalty and join Lone Star Wine Cellars for a wine pairing dinner and lively social experience featuring: Royal Chef, Darren McGrady! Chef McGrady was the former chef of Princess Diana and the British Royal Family for fifteen years and has cooked for five US Presidents and hundreds of Lone Star Wine Cellars wine club members.
Chef McGrady will prepare an extraordinary menu to pair with Lone Star Wine Cellar's "Ranch Wines" Collection.  Don't miss this unforgettable culinary experience! Rotating tables between courses at the winemaker's home in Stonebridge Ranch allows for meeting new friends and chatting with the Royal Chef himself!  Learn about his time in the Royal Kitchens at Buckingham Palace, Windsor Castle, Sandringham House, Balmoral Castle and on The Royal Yacht Britannia! 
This evening to remember is filled with award-winning wine, live music, and great company. Click here to purchase tickets!
Saturday, February 15th, 4-6 pm, Goodies Texas, Historic Downtown McKinney
Did you know that Goodies Texas has started offering classes?  Goodies Texas brings over 20 years of chocolatiering experience to the heart of McKinney, inside the historic Smith Drugstore building.  This family owned and operated business makes the best chocolates in Texas! 
This tasty valentine's date idea will allow you and your sweetie to try your hand at painting chocolates with the experts!   Make your own chocolate bars to take home. Plus, you'll receive a special box of truffles as well!  Stay up to date on available classes here.
LEARN ABOUT YOUR NEIGHBORHOOD WINE CLUB!
Become a member of the best wine club in town!  Receive FREE wine daily, discounts in store, and invites to exclusive events with our winemaker!
CHECK OUT THESE UPCOMING EVENTS!
Don't miss us at the many events hosted at Lone Star Wine Cellars throughout the year!  Check out our Wine-pairing dinners… Wine-blending events…Festivals…. Wine Trails… Arts and Crafts… And Much More!
BE THE FIRST TO KNOW!
Join our mailing list and be the first to know about our wines, events and special offers.  Sign up today and receive 20% off your first order.