This Month at Lone Star – April 2022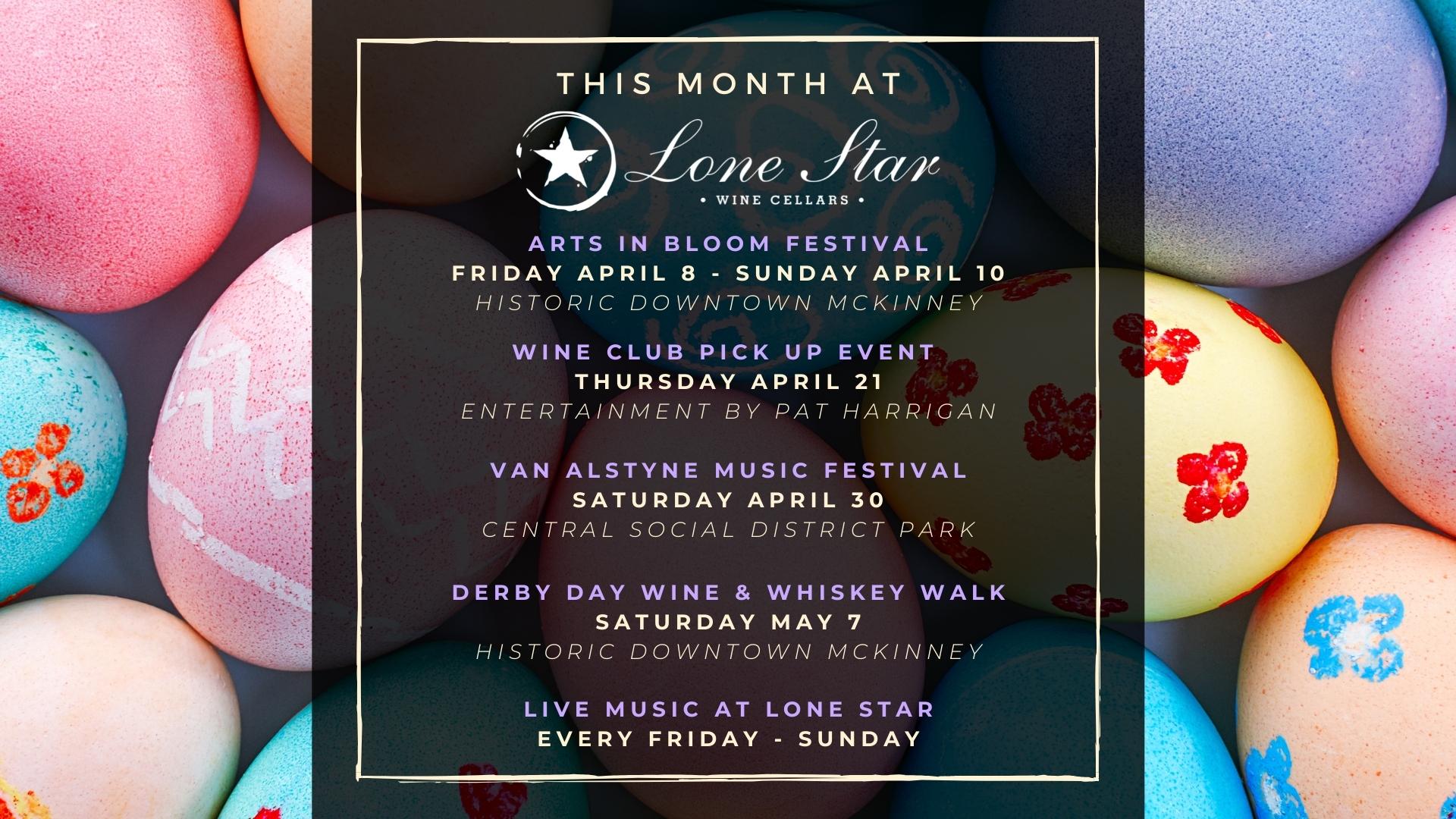 upcoming events
Save the date for these upcoming events!  Select the desired event for event details and ticketing information if applicable.
LOVE ON OUR FEATURED WINES THIS MONTH!
2014 Mountain Lion Meritage
This near-decade-old red wine has the expected tertiary wood flavor profile that has helped to retain its structure and keep enticing the most sophisticated palate.  Our 2014 Mountain Lion Meritage is a blend of Cabernet, Malbec, Merlot, and Petit Verdot grapes with aromas of dark fruits, plum, anise, and mint.  Subtle notes of rich vanilla bean and mocha on the mid-palate are followed by a long-lasting mouth-filled finish.  Pair this wine with braised pork chops with cranberry sauce, pot roast with potatoes, or a cozy bowl of chili!
2019 RESERVE WHITETAIL CHARDONNAY 
The 2019 Whitetail Chardonnay is an old-world, unoaked wine that has enticing aromas of golden apples, tropical fruit, limestone, and hints of vanilla. Creamy tropical fruits layer your mouth coaxing your next sip! Pair this balanced chardonnay with light, creamy dishes such as buttered Chilean Seabass, bagels and lox, or creamy sage gnocchi topped with shaved parmesan.
Become a member of the best wine club in town!  Personalized Selections!  Amazing Value!  Flexibility!  Our wine club offers this and much more on Premium wines that are Aged to Perfection!  Receive FREE wine daily, Discounts in store, and invites to Exclusive events with our winemaker!  100% Satisfaction Guaranteed!
Are you new to our wine club and have questions about our pickup parties? Pickup parties are a great way to meet other club members and get more connected to our wine-loving family!  Enjoy live music and be the first the taste our new releases!  If you have further questions about pickup parties click below to find answers to those questions!