This Month at Lone Star – February 2023
Valentine's Day is just around the corner, and what better way to celebrate than with a romantic evening spent with us at the winery or one of our upcoming events!? We're featuring an exciting selection of events for the season, along with releasing 2 new wines in our club! Keep scrolling to find out what we have in store for you this month!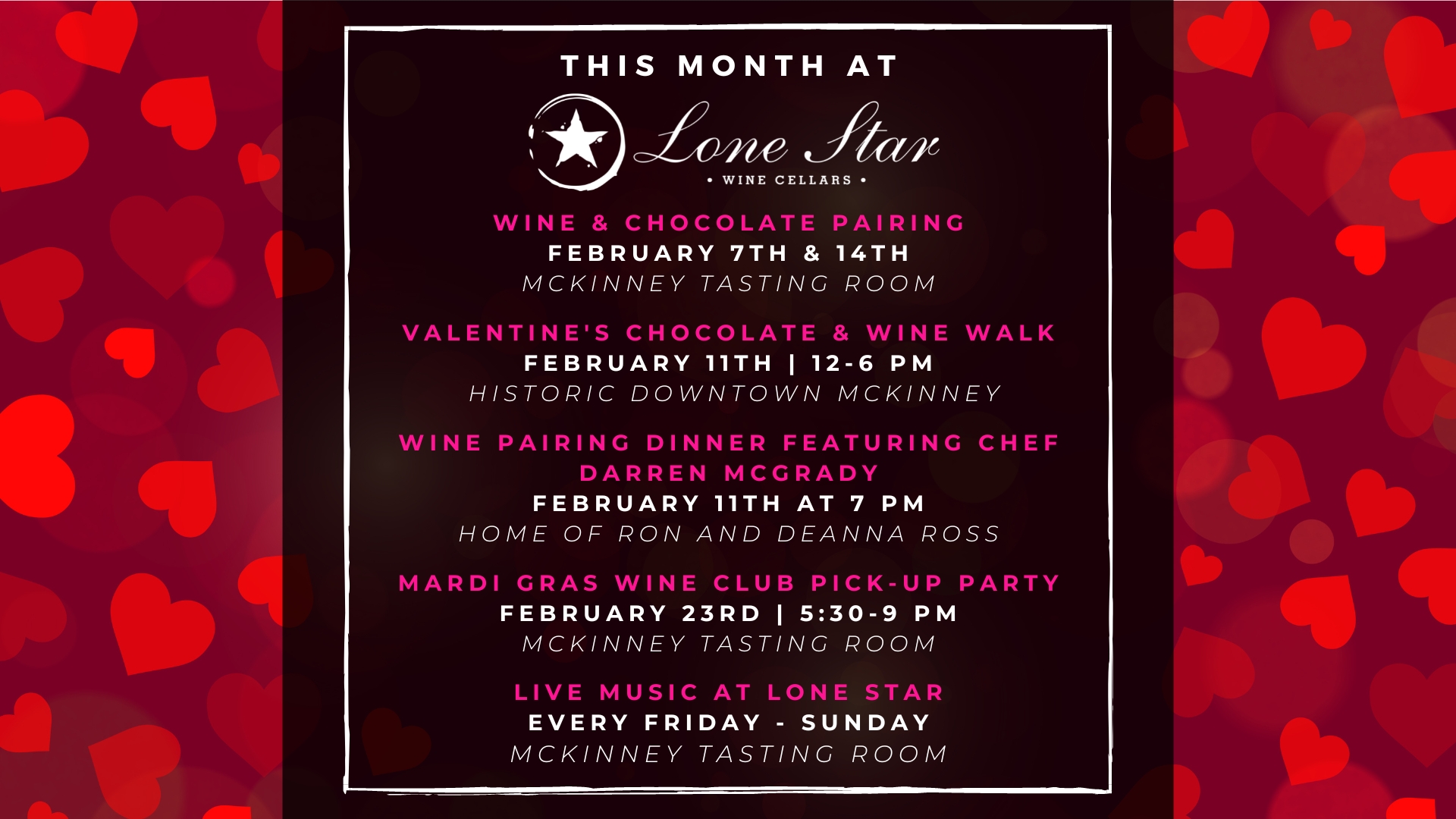 Valentine's Wine Pairing Dinner
Nine years and counting, Chef Darren McGrady has prepared an extraordinary menu to pair with Lone Star Wine Cellar's "Ranch Wines" Collection, bringing an unforgettable culinary experience to our most valued club members and their guests. We hope you will Be our Valentine and join us this evening to remember, filled with award-winning wine, live music, and great company.
Valentine's Wine & Chocolate Walk
Get your best GALentines together for a fun day of wine, chocolate, and shopping, or plan a sweet date for you and your sweetheart at the Valentine's Chocolate & Wine Walk in Historic Downtown McKinney! Enjoy the feeling of love in the air as you try premium Lone Star Wine Cellars wine selections and decadent chocolates.
SHARE THE LOVE BENEFITTING MINUTEMAN DISASTER RESPONSE
Minuteman Disaster Response is a non-profit that offers life-saving services at disaster scenes by providing well-trained, well-equipped, self-contained task forces and strike teams to assist in search and rescue, emergency medical operations, disaster scene management, and emergency communications.
SHARE THE LOVE this February by donating ANY BOTTLE from our wine list at 50% off to the wine pull at their 2023 fundraising gala! You can make your donation during hours of operation in the tasting room!
Volunteer 2023 Kick-off & Info Party
Still time to RSVP for this event since it was pushed back due to inclement weather! We are looking for energetic volunteers who love wine to join our amazing events team to work our fast-paced, fun events! Volunteer at 5 events this year to get full perks! Membership gains you access to FREE WINE, Cellar Star appreciation events, exclusive tastings, event discounts, and more!
upcoming events
Save the date for these upcoming events!  Select the desired event for event details and ticketing information if applicable.
February Wine Club Release
"Laissez Les Bon temps rouler" – Let the GOOD TIMES roll! Come get your party on with us at this month's pick-up party! Come in your Mardi Gras colors, and we'll have beads and masks for your to dress up in! Taste 2 new wine releases, eat on some king cake, and order some of our new Louisiana Cajun Rub wings to ring in this fun season! Jam out to local live jazz music and exchange beads with your best buds!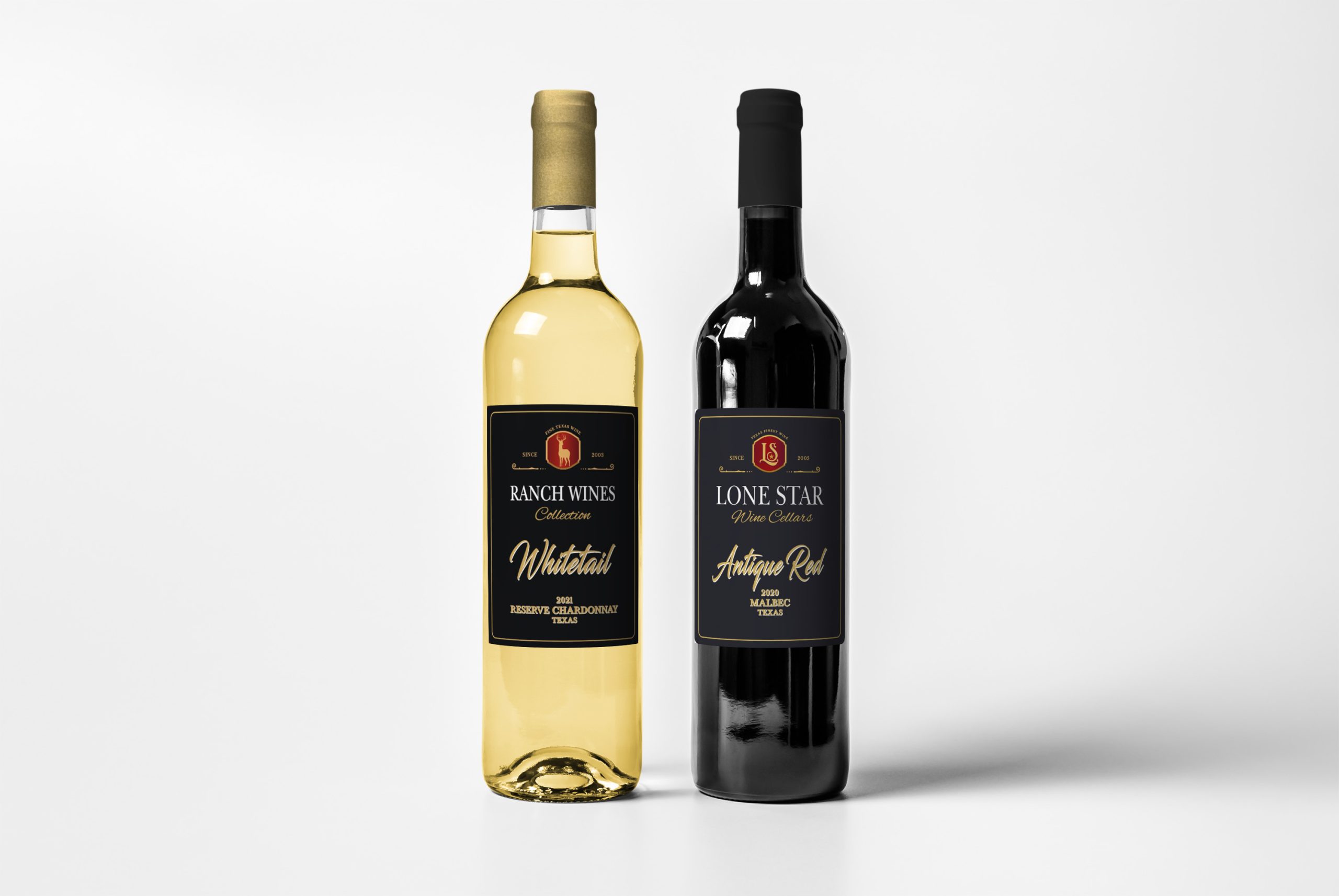 2021 Whitetail Chardonnay
The 2021 Whitetail Chardonnay has enticing aromas of creamy vanilla, white flower, and citrus. Creamy vanilla graces the palate, followed by a crisp apple finish, coaxing your next sip! Native to the Triple "R" Ranch & Winery, a herd of Whitetail deer roams alongside several exotic species.
2020 Antique Red Malbec
The 2020 Antique Red Malbec is a full-bodied red wine that has bold and juicy flavors of dark fruit, such as blackberry and plum, paired with complex notes of spice, black tea, and a hint of vanilla. It has a smooth and velvety texture, making it a perfect match for hearty meats and strong cheeses.
Become a member of the best wine club in town!  Personalized Selections!  Amazing Value!  Flexibility!  Our wine club offers this and much more on Premium wines that are Aged to Perfection!  Receive FREE wine daily, Discounts in store, and invites to Exclusive events with our winemaker!  100% Satisfaction Guaranteed!
Are you new to our wine club and have questions about our pickup parties? Pickup parties are a great way to meet other club members and get more connected to our wine-loving family!  Enjoy live music and be the first the taste our new releases!  If you have further questions about pickup parties click below to find answers to those questions!
Live Music at Lone Star
Join us every Friday – Sunday to enjoy exceptional local artists performing Live At Lone Star!