This Month at Lone Star – April 2023
Spring has sprung, and we're ready to "cheers" to brighter days ahead! So what's on tap this April? Well, we're excited to unveil our latest release, a luscious Tempranillo that's been aged to perfection. Plus, we've got a fun schedule of events planned, including live music, Wine & Macaron Pairings, and more! So stow away those winter coats, grab your friends, and raise a glass with us. It's time to soak up the sun and sip some seriously good wine!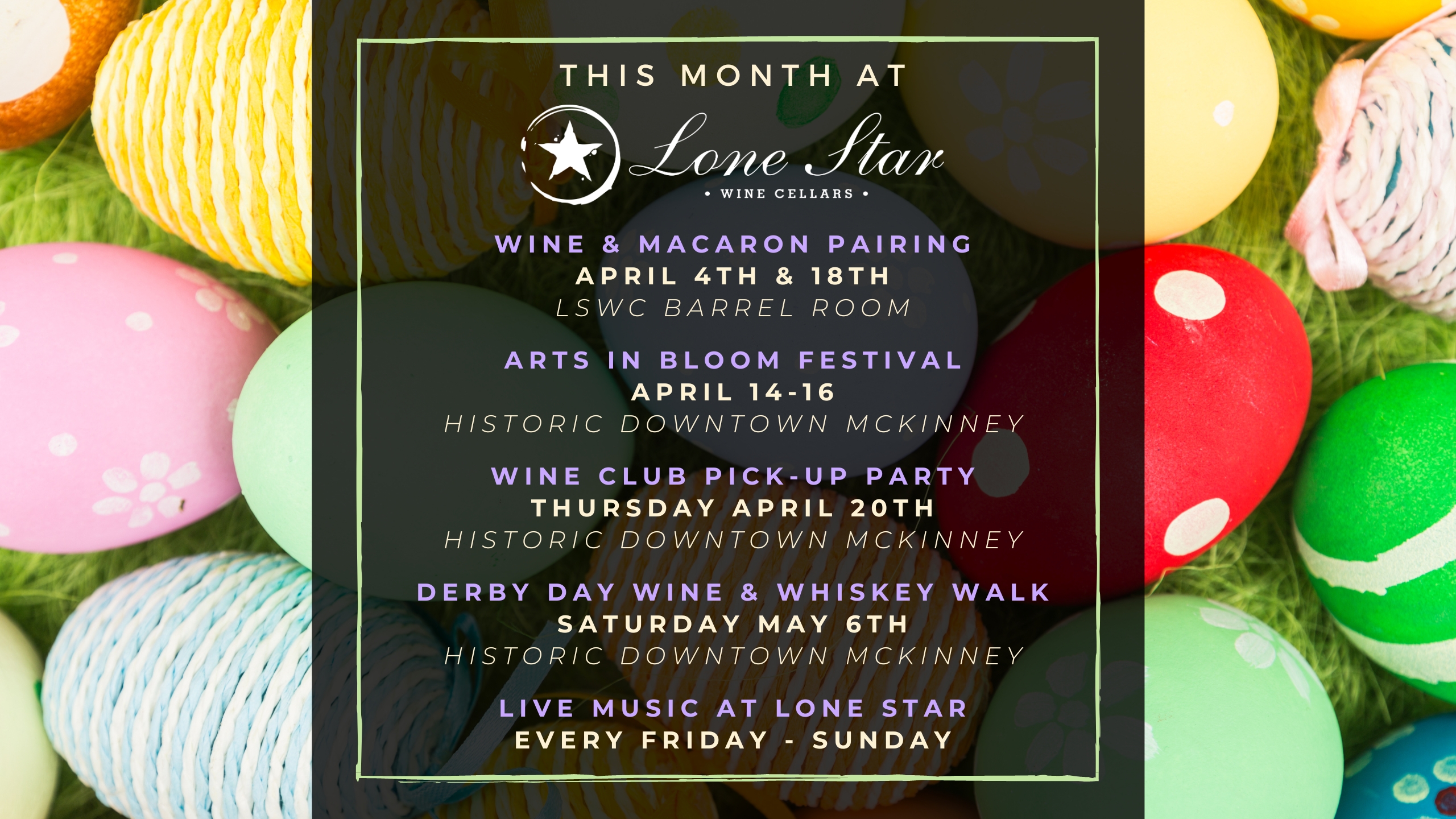 Wine & Macaron Pairing
Sip, sip, hooray, it's time to wine and dine with the perfect pairing divine! Join us for a night of sweet indulgence as we pair delectable Savor Patisserie macarons with our wines! Whether you're a wine connoisseur or a macaron fanatic (or both, we won't judge), this event is not to be missed! So grab your friends, your sweetheart, or even just your sweet tooth, and join us for an unforgettable evening of sipping, swirling, and savoring.
McKinney Arts in Bloom Festival
Wine lovers unite! Join us for a wine tasting at our booth at the McKinney Arts in Bloom Festival. Sip on the finest wines and take a stroll down the vibrant streets filled with beautiful blooms and stunning artwork that'll have your eyes popping and your heart skipping a beat!
Derby Day Wine & Whiskey Walk
Race over to Downtown McKinney for a Derby Day Wine & Whiskey Walk on Saturday, May 6th that'll have you feeling fancy and fabulous! Shop charming boutiques and sip on premium wines and whiskey cocktails from the best local restaurants in town while strutting your stuff in your derby hats and bowties! So gather your friends and get ready to trot around town in style. It's time to let loose, have some fun, and celebrate like you just won the Kentucky Derby!
April Wine Club Release
Attention wine lovers! This month's club wines are our 2019 Lonesome Dove Viognier and the NEW 2020 Axis Tempranillo! Save the date for our pick-up party Thursday, April 20th to taste the wines with a fun pairing and pick and enjoy live music!
upcoming events
Save the date for these upcoming events!  Select the desired event for event details and ticketing information if applicable.
Become a member of the best wine club in town!  Personalized Selections!  Amazing Value!  Flexibility!  Our wine club offers this and much more on Premium wines that are Aged to Perfection!  Receive FREE wine daily, Discounts in store, and invites to Exclusive events with our winemaker!  100% Satisfaction Guaranteed!
Are you new to our wine club and have questions about our pickup parties? Pickup parties are a great way to meet other club members and get more connected to our wine-loving family!  Enjoy live music and be the first the taste our new releases!  If you have further questions about pickup parties click below to find answers to those questions!
Live Music at Lone Star
Join us every Friday – Sunday to enjoy exceptional local artists perform Live At Lone Star!