This Month at Lone Star – November 2020
The Holiday season is just around the corner, bringing fun and exciting events to attend.  Kick off this month with a lively event, The Drink Local Wine Walk, benefitting the remarkable organization CASA of Collin County.  Don't miss our members only FREE Champagne Lanson Wine tasting November 19th!  And lastly, the North Texas Wine Country brings a blind wine tasting competition and holiday market to Fortunata Winery November 21st!  Keep your calendars up to date for all the excitement in downtown McKinney.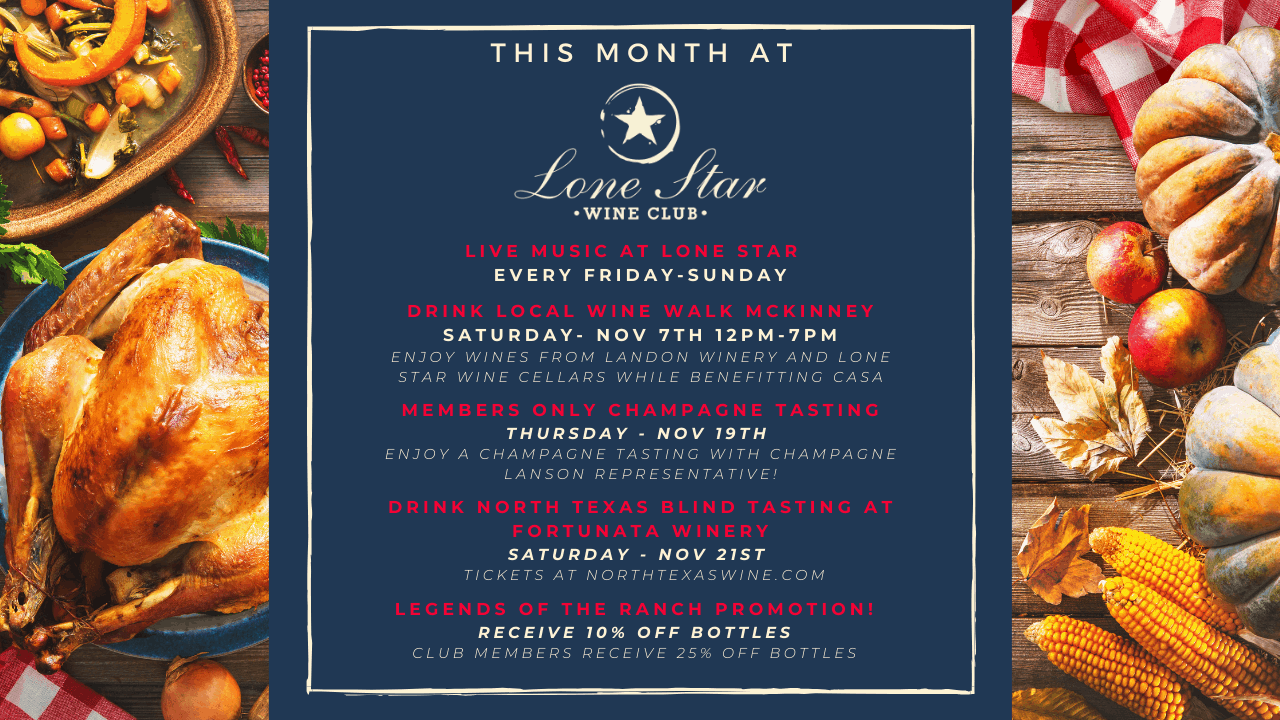 Drink Local Wine Walk McKinney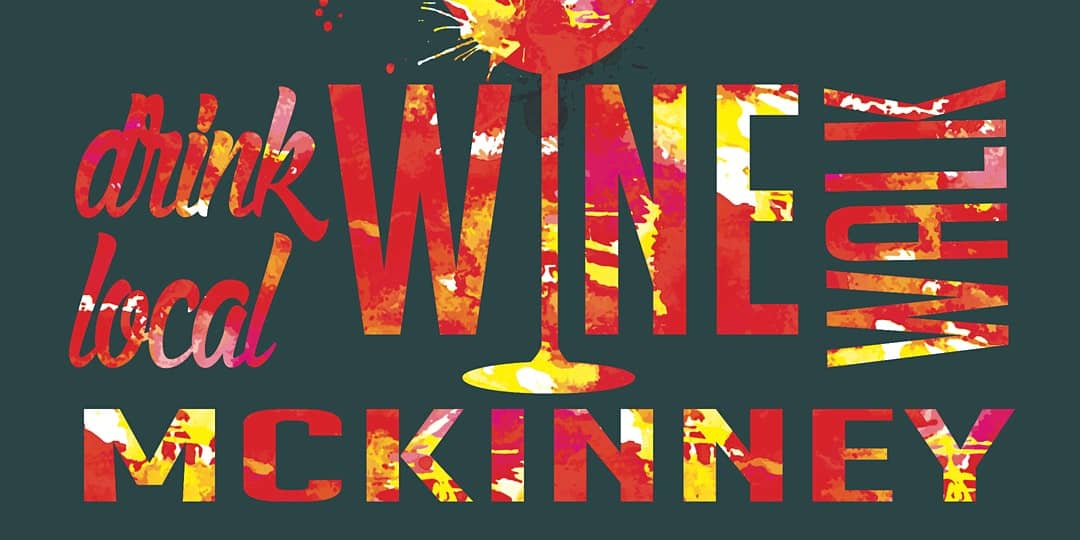 The 1st Annual Drink Local Wine Walk hosted by Landon Winery and Lone Star Wine Cellars is tomorrow! Purchase tickets now to enjoy sipping & shopping while walking Historic Downtown McKinney, Saturday 11.7.20 from 12-7 pm.  The Drink Local Wine Walk is the first ever customized wine walk digitally tailored to YOUR personal wine and shopping preferences!  Your digital Wine Walk Trip Planner will be emailed to you after purchasing tickets!  Answer 7 quick questions and we will tailor your experience to your shopping and wine preferences!
Very limited # of tickets available, get yours now at http://drinklocalwine.eventbrite.com/
Receive 12 tastes of wine while sipping and shopping 30 + stores and receive 2 bonus tastes from local wineries!  Save with their Super Sipper Special discounts
exclusive deals for Wine Walk participants!
Benefitting CASA Of Collin County
A portion of ticket sales benefits CASA of Collin County. CASA believes that all children deserve a safe and loving forever home, free from abuse or neglect.
Let's have some fun while we give back to this outstanding organization together!
Members Only Champagne Tasting

We invite our wine club members to this members-only exclusive FREE Champagne Tasting with a representative from Champagne Lanson, Thursday, November 19th from 7pm – 9pm!  Taste 3 new Champagne offerings at Lone Star Wine Cellars with the opportunity to upgrade your December wine club package to one of these three Champagnes!  Champagne Lanson wines are the Champagne brand appointed by the Queen of England!  Be treated to this high end Champagne Tasting at Lone Star Wine Cellars!  Taste Champagnes of Grand Cru and Premium Cru grapes (the highest quality of Champagne from the region), perfect for Holidays and celebratory occasions!
Drink North Texas Blind Tasting At Fortunata Winery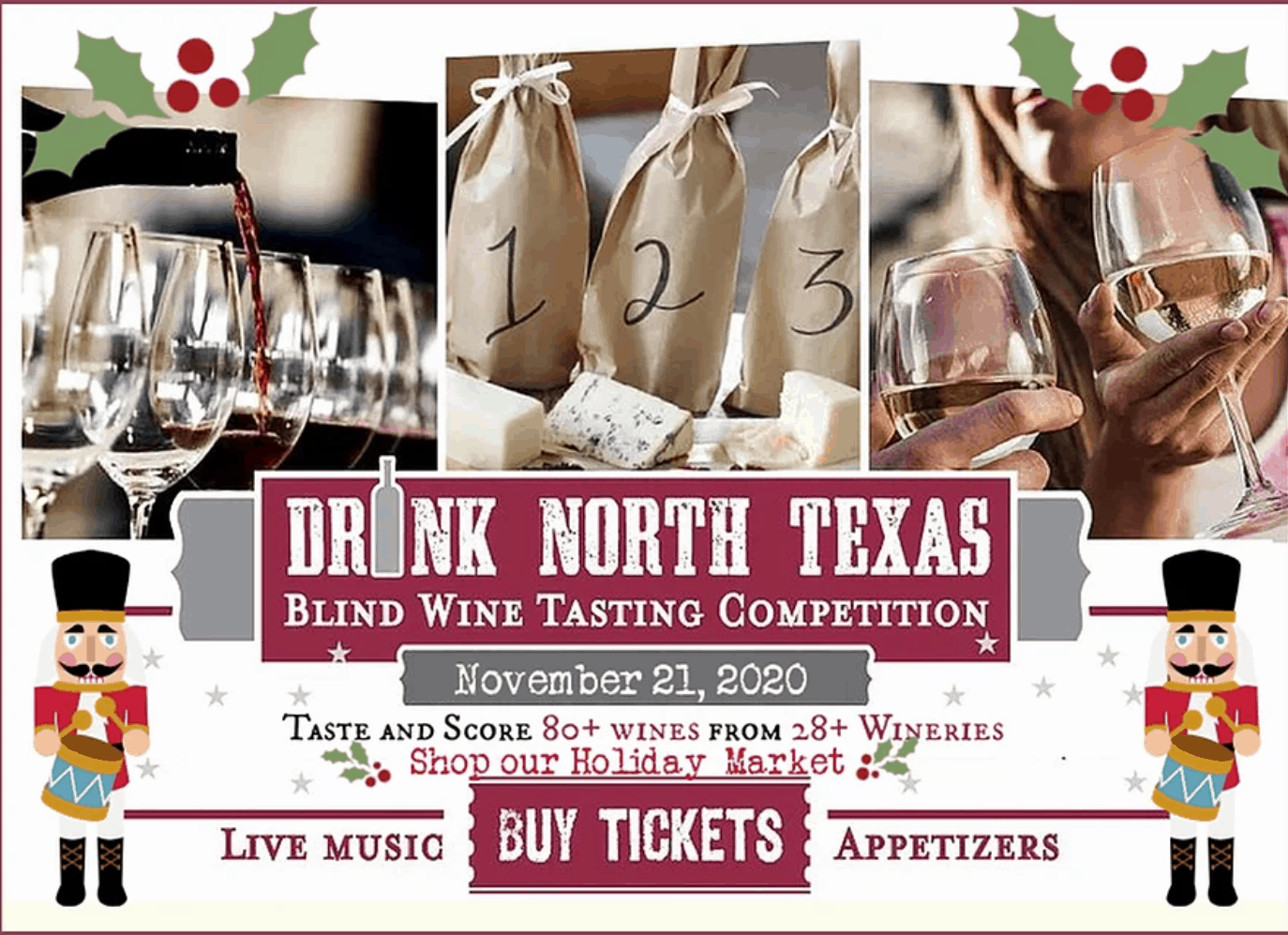 Let your senses unmask your favorite flavors at this North Texas Wine Country walk-around Wine Tasting event November 21 at Fortunata Winery, 2297 FM2931, Providence Village/Aubrey, Texas. That's right! North Texas Wine Country wineries will be in one location.
The 2nd Annual People's Choice Blind Wine Tasting Competition is by "Session" this year to ensure Social Distancing. Choose from four, one and one-half hour long sessions in the People's Choice Tasting Tent. Choose your Tasting Time Slot by the ticket you purchase. Ticket holders get a souvenir glass to taste and can score up to 60 wines according to their taste buds during their scheduled time.
Tickets are $50** available at www.northtexaswine.com
Categories are: Dry Red, Dry White, Sweet Red, Sweet White, Pinks (Rose' and/or Blush) and Bubbles.
When not in the Tasting Tent, enjoy the wineries and our select Vendor Holiday Market from 11:00AM-6:00PM with Live Music by Davis and Rose Band and the Homestead Underground Band. Plan your holiday shopping and stock up on your favorite wines for the weekend, holidays and gift-giving season at this fun and relaxing event in the country among the grapevines.
We have 34 select vendors for your shopping pleasure as well as Food Trucks and Food Vendors. Come Sip, Shop and enjoy the day with the North Texas Wine Country.
upcoming events
Save the date for these upcoming events!  Select the desired event for event details and ticketing information if applicable.
Take advantage of our LEGENDS OF THE RANCH PROMOTION!  Each month we are sharing the stories behind the legends featured on our wine labels.  Every bottle has a story and to get the word out we are giving 10% OFF bottles of our featured legend AND 25% OFF for club members!   We hope you will share our stories with your friends!
Become a member of the best wine club in town!  Personalized Selections!  Amazing Value!  Flexibility!  Our wine club offers this and much more on Premium wines that are Aged to Perfection!  Receive FREE wine daily, Discounts in store, and invites to Exclusive events with our winemaker!  100% Satisfaction Guaranteed!
Are you new to our wine club and have questions about our pickup parties? Pickup parties are a great way to meet other club members and get more connected to our wine-loving family!  Enjoy live music and be the first the taste our new releases!  If you have further questions about pickup parties click below to find answers to those questions!
Live Music at Lone Star
Join us every Friday – Sunday to enjoy exceptional local artist perform Live At Lone Star!
No Events are found.
Join our mailing list and be the first to know about our new wines, events and special offers!