This Month at Lone Star – May 2020
Welcome back friends!  Lone Star Wine Cellars has re-opened!  Please join us for full dine-in services at our grand re-opening Wednesday, May 6th!  We appreciate your patronage during these uncertain times and moreover can't wait to join everyone for a glass inside our beautiful winery!  We will also continue curbside pickup services for those that wish to continue enjoying our wine and food items from home!
OUR SOCIAL DISTANCING GUIDELINES & EMPLOYEE MEASURES
Springtime surrounds us with its beauty and we couldn't be more excited to open for a recharge inside and on our patio!  As we return to a new normal please be aware of our new social distancing guidelines.  Safety of our employees and our guests is of upmost importance to us.  As such, our employees will be taking extra precautions with our new operating procedures at this time.  Please note we will not be taking reservations and instead will service walk-ins only utilizing a new wait-list texting service to maintain the required capacity restrictions set forth by our state and local officials.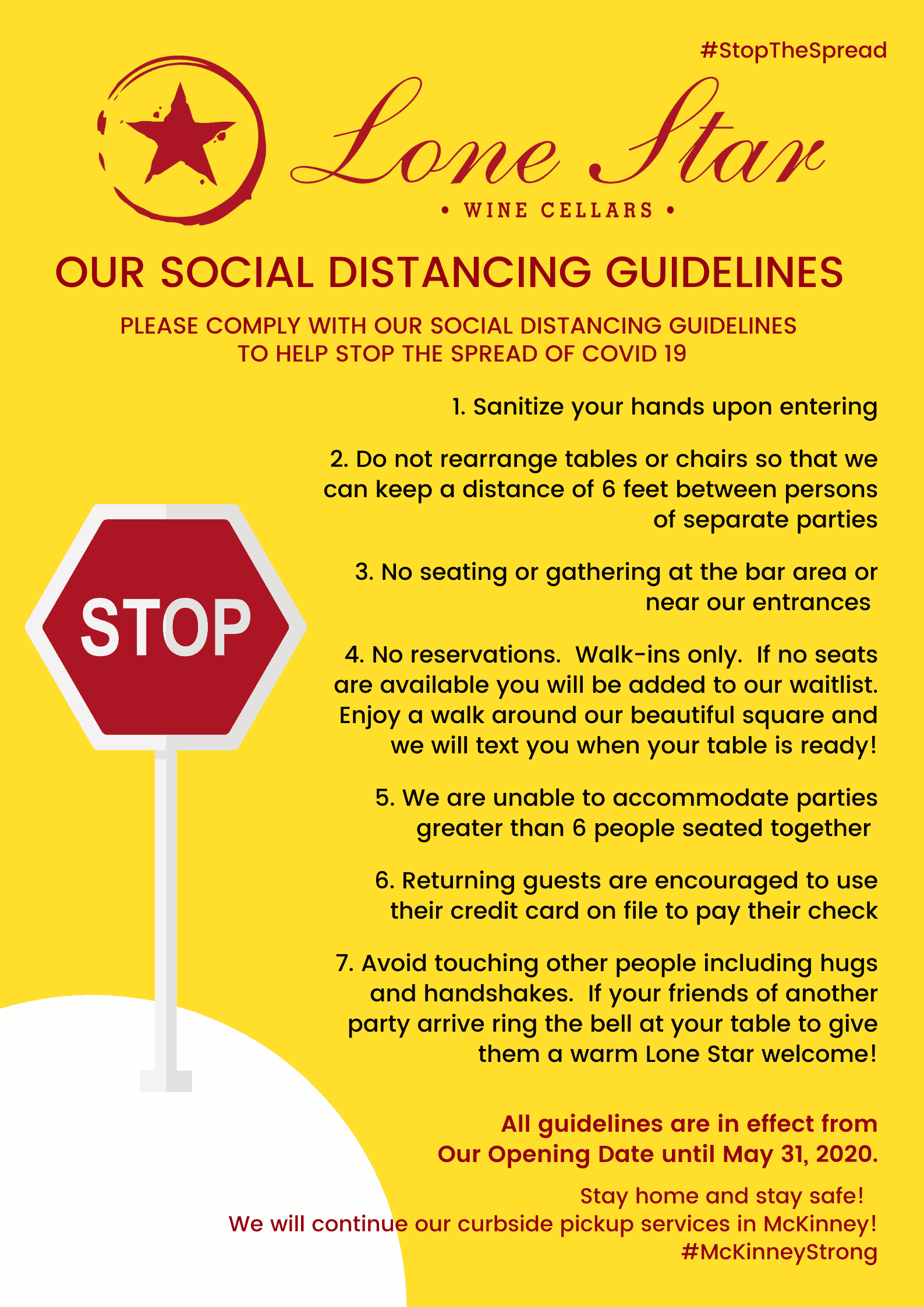 Curbside Pick Up - Call Ahead
Don't let Covid-19 keep you from your favorite menu items at LSWC.  We are offering our full menu for curbside pickup including all food and bottle sales.  No time like the present to grab extra bottles for all that time at home!
Give us a call at 972-547-WINE (9463) and we will prepare your order for curbside pick up right in front of our patio.  No one needs to be without a Ranch wine and Deanna's artichoke dip, not to mention a flatbread pizza!!
ORDERING MADE EASY
We have made ordering super easy!  Two methods of ordering for curbside pickup are available:
Click here to download a pdf file of our menu and simply call us at 972-547-WINE (9463) to order your favorite food and wine pairings!
Alternatively, brows our online store and order online through our shop page!  You will be prompted to select shipping or local pickup with all online orders.
EVENT DELAYS
We have postponed the Derby Day Wine Walk as well as our Annual Wine Blending Competition until further notice.  We look forward to possibly announcing a new date for these events in the near future.
Monthly Legend Of The Ranch Promotion
Every bottle has a story and this month's Legend of The Ranch,
Blue Heron Gewurztraminer
, has an exciting one we can't wait to tell you!  Enjoy the Blue Heron Gewurztraminer offering along with an equally tasty discount on this delicious premium wine.
Blue Heron Gewurztraminer
Great Blue Heron are native to the Triple R Ranch, and with just one sip wine-drinkers are transported to the various natural habitats visited by these majestic creatures.
The beautiful birds are typically observed flying gracefully above as well as wading casually through waterways at the Triple R Ranch.
Mr. Ross first learned his wine-making craft in the Finger Lakes region of New York where the Iroquois Indians believe a sighting of Great Blue Heron brings good luck! Fly away with a glass of Great Blue Heron.
Take advantage of our LEGENDS OF THE RANCH PROMOTION!  Each month we are sharing the stories behind the legends featured on our wine labels.  Every bottle has a story and to get the word out we are giving 10% OFF bottles of our featured legend AND 25% OFF for club members!   We hope you will share our stories with your friends!
Become a member of the best wine club in town!  Personalized Selections!  Amazing Value!  Flexibility!  Our wine club offers this and much more on Premium wines that are Aged to Perfection!  Receive FREE wine daily, Discounts in store, and invites to Exclusive events with our winemaker!  100% Satisfaction Guaranteed!
Are you new to our wine club and have questions about our pickup parties? Pickup parties are a great way to meet other club members and get more connected to our wine-loving family!  Enjoy live music and be the first the taste our new releases!  If you have further questions about pickup parties click below to find answers to those questions!
Live Music at Lone Star
We are all looking forward to the day when we can resume business as normal inside our lovely winebar as well as welcoming everyone back to their favorite table and barstool, INCLUDING our beloved musicians.
Undoubtedly, our musicians are eager to be entertaining you and we are continually lining them up for the big return!  Stay tuned and be ready to mark your calendars.
No Events are found.