This Month at Lone Star – March 2020
As the March winds blow in to announce the arrival of the much awaited season of Spring, Lone Star Wine Cellars joins the North Texas Wine Country Wineries for a
Budbreak Bash
sip-n-shop event and  introduces a whirlwind of promotions!
Monthly Legend Of The Ranch Promotion
Every bottle has a story and this month's Legend of The Ranch, Wild Turkey Sauvignon Blanc, has an exciting one we can't wait to tell you!  Enjoy the Wild Turkey Sauvignon Blanc offering along with an equally tasty discount on this delicious premium wine.
Women, Wine and Fun
Lone Star honors all women this month on International Women's Day with a
Girls Gone Wine
night!  A well deserved treat for the women in our lives. We will also be having a little fun with Farkle on a game night for
St. Patrick's Day.
 Could it be the Irish started this game??
Live Music
Live music in March brings returning favorites as well as a few new names to our establishment. Always a good time to be had.
So many events to not miss as we welcome Spring with wine!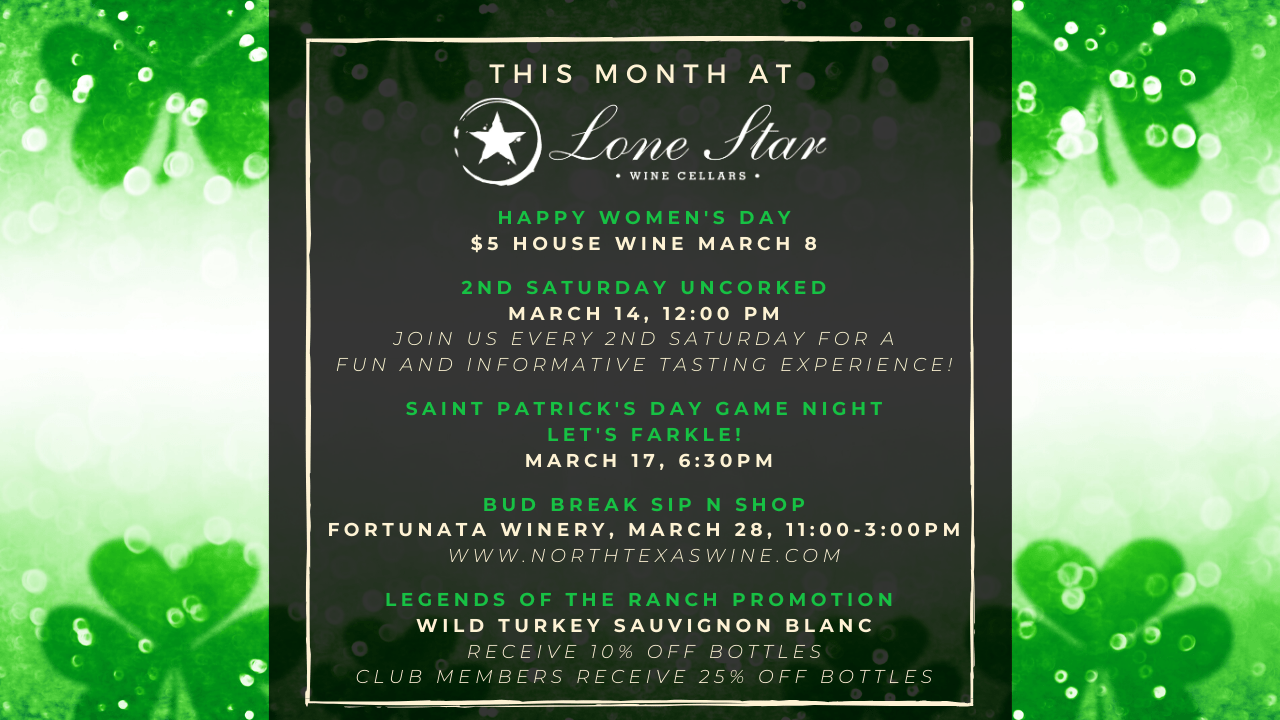 upcoming events
Save the date for these upcoming events!  Select the desired event for event details and ticketing information if applicable.
No Events are found.
Monthly Legend
Wild Turkey Sauvignon Blanc
One of the most exciting times to visit the Triple R Ranch and Winery is in the Springtime when a flock of wild turkeys migrate back to our family property.  The change of season is also when romance is in the air and the turkey's really strut their stuff!  From a magnificent display of tailfeathers to chattering antics of clucking, purring, and gobbling, the return of the wild turkeys is an amusing sight to see.
The Wild Turkey Sauvignon Blanc is a delicious reminder of the warm summer days to come.
Take advantage of our LEGENDS OF THE RANCH PROMOTION!  Each month we are sharing the stories behind the legends featured on our wine labels.  Every bottle has a story and to get the word out we are giving 10% OFF bottles of our featured legend AND 25% OFF for club members!   We hope you will share our stories with your friends!
Become a member of the best wine club in town!  Personalized Selections!  Amazing Value!  Flexibility!  Our wine club offers this and much more on Premium wines that are Aged to Perfection!  Receive FREE wine daily, Discounts in store, and invites to Exclusive events with our winemaker!  100% Satisfaction Guaranteed!
Are you new to our wine club and have questions about our pickup parties? Pickup parties are a great way to meet other club members and get more connected to our wine-loving family!  Enjoy live music and be the first the taste our new releases!  If you have further questions about pickup parties click below to find answers to those questions!
Live Music at Lone Star
Join us every Thursday – Sunday to enjoy exceptional local artist perform Live At Lone Star!
No Events are found.
Join our mailing list and be the first to know about our new wines, events and special offers!