This Month At Lone Star – June 2019
We are sipping into summer and one of our favorite ways to celebrate is with wine on Lone Star's patio!  Check out our featured wines, tune into our exciting summer music schedule, and don't let our June promotion sizzle away!
IN THIS NEWSLETTER
MONTHLY FEATURED WINES

2016 Black Buck Antelope Merlot – New Release
2014 White Goose Riesling

JUNE PROMOTION

Buy ANY bottle of wine online or in-store to-go before June 19th to be entered to win $100 gift certificate to Rick's Chophouse!! (Shop Online)

UPCOMING EVENTS

PLANT NITE AT LONE STAR – June 4 (Purchase Tickets)
POPUP PARTY/AROMATIC EXPERIMENT & WINE TASTING – June 5 (Purchase Tickets)
JUNE WINE CLUB PICKUP PARTY – June 20 (Learn More)
WINE NOT? KARAOKE WEDNESDAYS – July 3 – September 25
LEARN ABOUT OUR CLUB!
Become a member of the best wine club in town!  Receive FREE wine daily, discounts in store, and invites to exclusive events with our winemaker!
Don't let this offer sizzle away! Purchase a bottle of wine online or in-store to-go between now and June 19th to be entered to win a $100 gift certificate to Rick's Chophouse!  Come in and grab Dad a bottle for Father's Day!  Drawing will be held June 20th at 7pm (Do not need to be present to win)
90% of what we taste in wine is from our olfactory senses! Join us in training our olfactory memory at this Popup Party where we will utilize Le Nez Du Vin Scent Kit and compare our Ranch Wines combined with sommelier notes to the kit's 54 scents.  This wine tasting and aromatic experiment is truly unique!
Are you new to our wine club and have questions about our pickup parties?  Pickup parties are a great way to meet other club members and get more connected to our wine-loving family!  Enjoy live music and be the first the taste our new releases!  Learn more to find answers to those questions!
2016 Blackbuck Antelope Merlot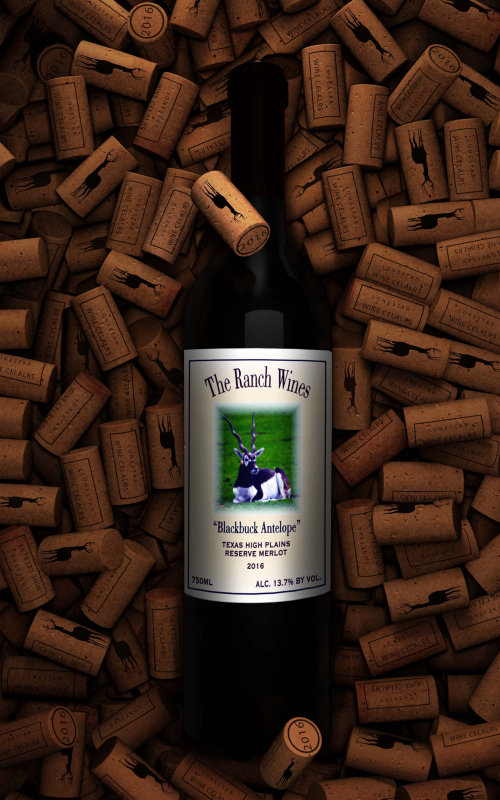 This Texas made Merlot is a tantalizing treat!  We aged our 2016 Blackbuck Antelope Merlot for 14 months in Stainless Steel tanks followed by 5 months in French oak barrels.  It is sure to please and continue to age nicely in the bottle!
The day bright clarity intensifies the ruby red color with the hint of a garnet rim.  Vibrant aromas are layered with red and blue fruits, an earthy touch of spice, and leather.  The palate bursts of red cherries, dusty red-clay and soft tannins.  This Merlot lives up to being one of the three "noble" red grapes in the wine world, along with Pinot Noir and Cabernet Sauvignon.
Pair your 2016 Blackbuck Antelope Merlot with herb crusted pork chops hot off the grill or spicy Italian dishes like spaghetti and meatballs.
2014 WHITE GOOSE RIESLING
This June we are featuring our 2014 White Goose Riesling, just in time for those hot Texas summer days and warm nights.  This is a bottle of deliciousness from our North Texas winery, at The Triple "R" Ranch!  Our winemaker, Ron Ross, has outdone himself offering this beautiful Texas made Riesling with fruit from the vineyards of the Texas high plains area.
The Riesling varietal has a high acidity and is one of the longest-lived wines.  You will find the bouquet is a delicate perfume of the stone fruit along with honeysuckle notes.  On the palate, the fresh crispness of peach, mango, and orange marmalade, create a harmonious balance between the acidity and slight residual sugar.  A perfect summer sipper and accompaniment to a spicy Tex-Mex dish or savory Lasagna.  Cheers to Texas Summers!