This Month at Lone Star – August 2021
We are making a splash for the rest of the summer at Lone Star Wine Cellars! This month we are excited to bring wine club members 2 new wines to enjoy in their club, a cabernet day celebration, and another opportunity to attend our Premium Wine and Cheese Experience! Come on into the tasting room and soak up the remainder of summer on our patio with a chilled glass of wine and a delicious bite to eat!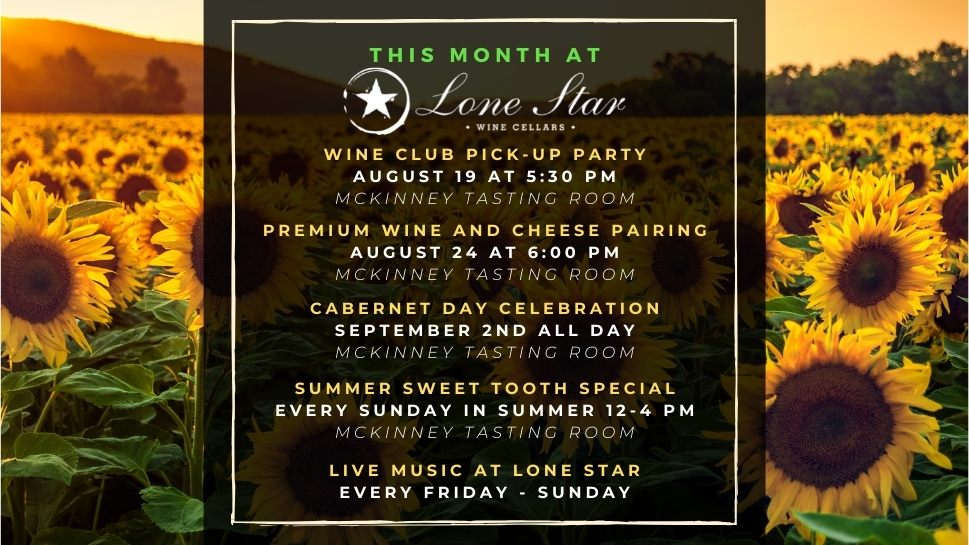 upcoming events
LOVE ON OUR FEATURED WINES THIS MONTH!
2019 GREY GHOST PINOT GRIGIO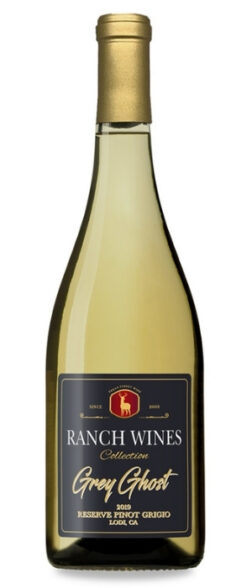 The Grey Ghost Pinot Grigio carries the story of 4 generations of winemaking in North America from the Ross family farm in Alberta, Canada in the early 1900s, to a swanky speakeasy in the mid-1920s outside the beautiful finger lakes region of New York, all the way to the emerging wine country of North Texas 100 years later.  Percy Ross, the first known winemaker in the Ross family, and his horse "Grey Ghost" before he fled Canada in 1910 to come to America and escape this young entrepreneur's troubles.
2019 Grey Ghost Pinot Grigio found its fruit in Lodi, CA.  Another RRR Ranch premium wine aged to perfection for 22 months in stainless steel tanks.  This wine explodes with tangy citrus fruits, including lime and ripe pineapple, and intense flavors of green apple, white flowers, and minerals.   Mildly acidic, light, and dry, a nice seared mackerel can help bring out the citrus and fruity flavors of this wine.
2015 THP MONTEPULCIANO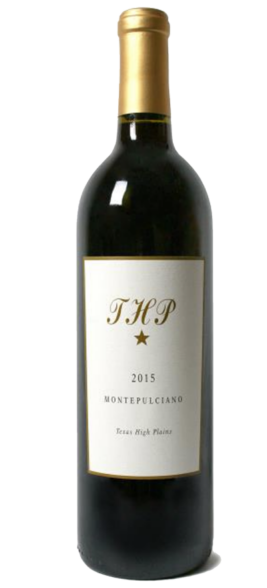 2015 THP Montepulciano was created by winemakers that believe in the magic of blended wines. This blend is composed entirely of Texas High Plains grapes, fermented as separate parcels, and blended to achieve a balanced wine of complexity. This terroir-driven wine is highly perfumed with complex ripe aromatics of blackberries, cherries, savory notes of tomatoes, and oregano, with just a kiss of oak. This is a medium-bodied wine with refreshing acidity and soft, lush tannins. THP blends were intended to be enjoyed at the dinner table. These varieties come together to create a savory effect when paired with food. Enjoy it tonight with your favorite pasta or gourmet pizza.
As a varietal not traditionally produced in Texas, this is a rarity! Aged in barrels made from a combination of French oak sourced from the heart of France and American oak sourced from Kentucky and Minnesota, this Montepulciano wine is complex, balanced, and a wonderful take on the varietal!
Become a member of the best wine club in town!  Personalized Selections!  Amazing Value!  Flexibility!  Our wine club offers this and much more on Premium wines that are Aged to Perfection!  Receive FREE wine daily, Discounts in store, and invites to Exclusive events with our winemaker!  100% Satisfaction Guaranteed!
Are you new to our wine club and have questions about our pickup parties? Pickup parties are a great way to meet other club members and get more connected to our wine-loving family!  Enjoy live music and be the first the taste our new releases!  If you have further questions about pickup parties click below to find answers to those questions!
Join our mailing list and be the first to know about our new wines, events and special offers!