New Services Available! Virtual Concerts, Free Delivery in McKinney, Free Shipping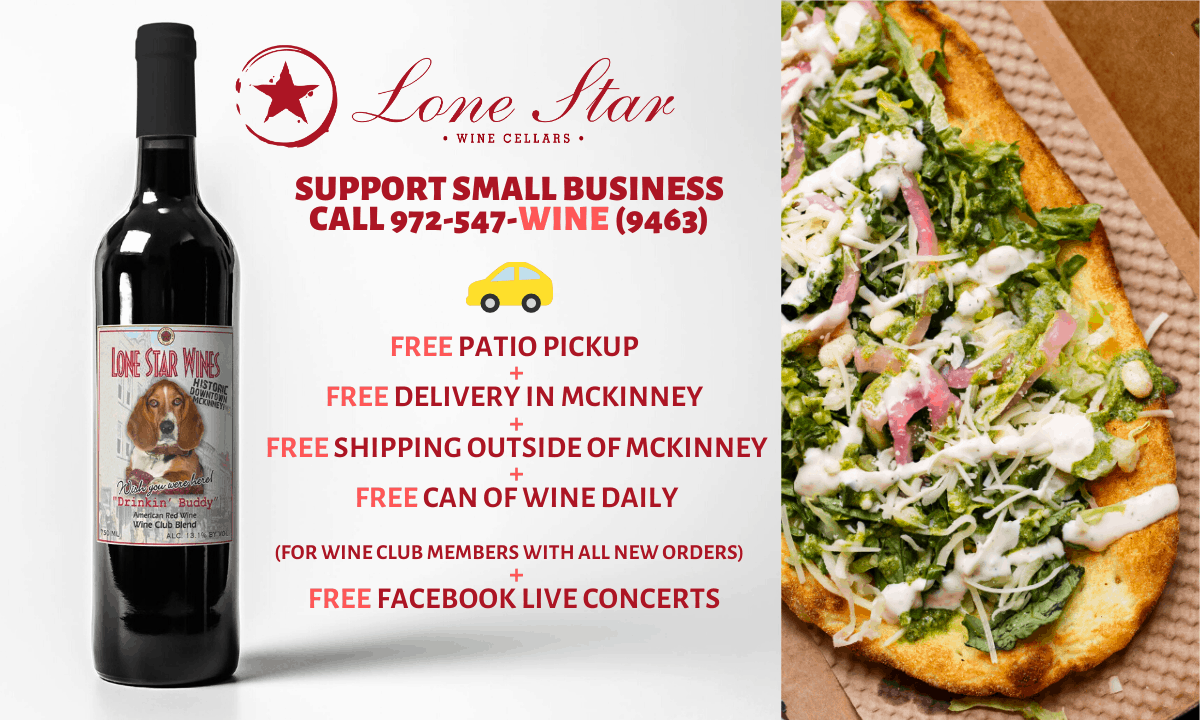 Desperate times call for desperate measures innovation! We need your support now more than ever!  In response to city and state mandates for temporary closures of dine-in establishments we saw an opportunity to continue to provide you a safe at-home experience of your favorite local winery!
temporary operation changes
We are shifting everyday operations to continue service during the coronavirus outbreak. Your favorite food & wine paired with local music is still available!  Stay positive and enjoy Lone Star from the comfort of your home.  Thank you for supporting small businesses and local musicians! We will strive to keep our normal business hours for Patio Pickup and Deliveries.  Inside dining temporarily closed starting Friday, March 20th, 2020.
6 new services To bring you Lone Star At home!
Free Delivery in McKinney right to your doorstep for all online/phone food and wine orders.  Localized delivery services are beginning to bubble up for restaurants and retailers of Downtown McKinney to the residents of Historic Downtown McKinney.  Live outside of our little bubble?  No problem.  We will deliver within the entire city limits of McKinney. Grab a bottle of wine and/or your favorite fixings from Lone Star (Flatbread Pizzas, Mom's Artichoke Dip, Bacon-wrapped dates, Cheese and Charcuterie Boards, & Cheesecake dessert!) for a more enjoyable night in!
Free Shipping of Wine Outside of McKinney for all Online Orders.  Don't be shy!  Take advantage of this HUGE perk.  Shipping alcohol is expensive and its on us!  We want you to stick with us and continue to enjoy Lone Star Wines through these changes!  A recipient 21+ must be present to receive alcoholic packages from our shipping providers.
Contactless Patio Pickup for Phone/Online Food & Wine Orders as well as Wine-club Pickup. Your wine club wines are still so excited to go home with you!  Drop in during our normal business hours and we will deliver your wine club wines curbside.  To maintain a safe environment we will not be allowing customers to utilize our outside patio space as a hangout.
Virtual Facebook Live Concerts from Local Musicians – Local artist lost work overnight so we are doubling down to support them!  We have 8 scheduled virtual concerts this week already and growing!  Like our FaceBook page and be prepared to tune in to our page when these artists are scheduled to go live!  Scheduled events are shown below.  Click here to access our facebook page.
Virtual Community Builder Event –  We are in the process of developing a safe virtual community builder event to giveback to the community in this time of need.  Please stay tuned for more details to come.
Join Our Wine Club Online – Taste the value, experience the personalization, and enjoy the flexibility of exchanging, picking up, or having your wine shipped directly to you! The Star Wine Club subscription is perfect for exploratory wine drinkers that want to appreciate a broad range of high quality varietals produced locally!  Click here to learn more!
Ordering made easy!
We have made ordering super easy!  Two methods of ordering are available:
Click here to download a pdf file of our menu and simply call us at 972-547-WINE (9463) to order your favorite food and wine pairings!
Alternatively, browse our online store and order online through our shop page!  You will be prompted to select shipping or local pickup with all online orders.
Virtual Facebook Live Concert Series
Tune into one of our Virtual FaceBook Live Concerts!
No Events are found.
Wild Turkey Sauvignon Blanc
One of the most exciting times to visit the Triple R Ranch and Winery is in the Springtime when a flock of wild turkeys migrate back to our family property.  The change of season is also when romance is in the air and the turkey's really strut their stuff!  From a magnificent display of tailfeathers to chattering antics of clucking, purring, and gobbling, the return of the wild turkeys is an amusing sight to see.  The Wild Turkey Sauvignon Blanc is a delicious reminder of the warm summer days to come.
Take advantage of our LEGENDS OF THE RANCH PROMOTION!  Each month we are sharing the stories behind the legends featured on our wine labels.  Every bottle has a story and to get the word out we are giving 10% OFF bottles of our featured legend AND 25% OFF for club members!   We hope you will share our stories with your friends!
Become a member of the best wine club in town!  Personalized Selections!  Amazing Value!  Flexibility!  Our wine club offers this and much more on Premium wines that are Aged to Perfection!  Receive FREE wine daily, Discounts in store, and invites to Exclusive events with our winemaker!  100% Satisfaction Guaranteed!
Are you new to our wine club and have questions about our pickup parties? Pickup parties are a great way to meet other club members and get more connected to our wine-loving family!  Enjoy live music and be the first the taste our new releases!  If you have further questions about pickup parties click below to find answers to those questions!
Join our mailing list and be the first to know about our new wines, events and special offers!