Monthly Newsletter – June 2021
Happy June fellow wine lovers! We kick off the beginning of the month with The 25th Annual Texas Music Revolution Festival. it's going to be a rockin' time at Lone Star and Historic Downtown McKinney! June is also a Wine Club month which means Pick-up Party time with all of our amazing club members. This month finishes out with a bang with the first-ever Wine Olympics Day Retreat at the Triple "R" Ranch and Winery.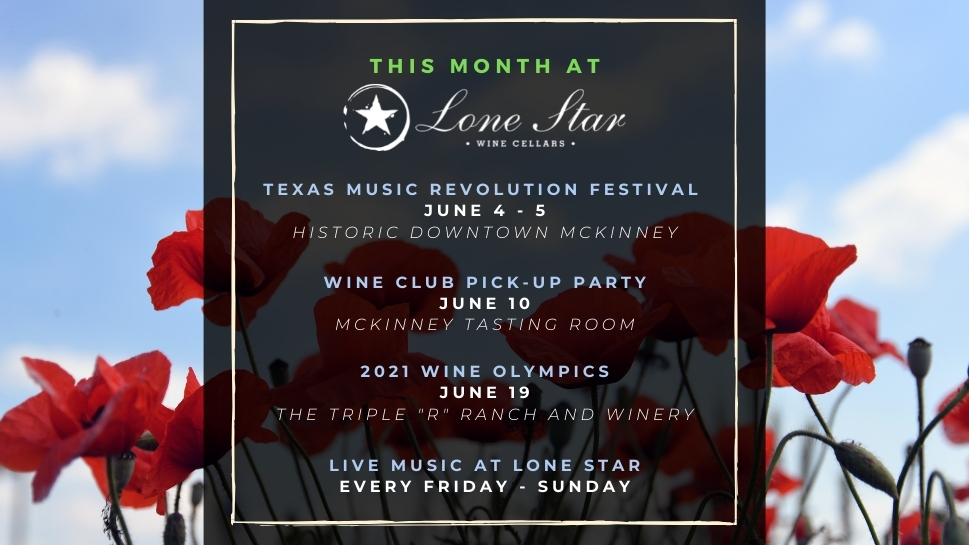 upcoming events
Save the date for these upcoming events!  Select the desired event for event details and ticketing information if applicable.
LOVE ON OUR FEATURED WINES THIS MONTH!
2017 Drinkin' Buddy Red Club Blend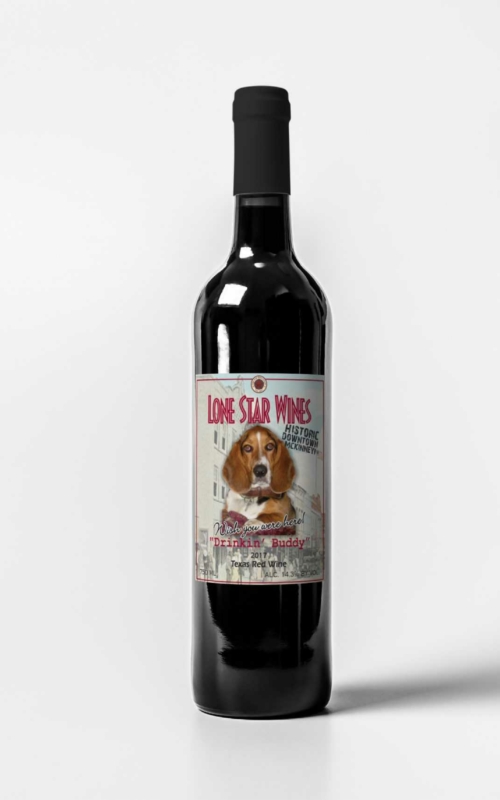 Need a delicious red blend to share with some buddies? The Lone Star Wines 2017 Drinkin' Buddy Red blend makes friends with all who try it. This wine is extra special because it was crafted at our annual wine club blend event by our loved Lone Star club members.
Every year in the Spring, the Lone Star Wine Cellars' Wine Club members head to the Triple 'R' Ranch & Winery where their talent as a wine connoisseur is put to the test to create their own special blend. The blend is a stainless-steel fermented blend of primarily Cabernet Franc and Cabernet Sauvignon, with a splash of Zinfandel and Malbec. The color is day bright of ruby-red with an orange rim. This full-bodied red holds an abundance of big and bold red and blue fruit aromas on the nose, such as black cherry and ripe plum.  The flavor has copious amounts of strawberry and blueberry jam wrapped in a pleasing mouthfeel with a long and smooth fruitful finish.
2017 Monte Stella Sauvignon Blanc

Texas has a longstanding reputation for excellence in its agricultural products. Monte Stella wines are produced from Texas grapes by Texas hands and made to be enjoyed with food, friends, and family. The Monte Stella brand is dedicated to producing the highest quality wines from Texas grapes. Lone Star's exclusive relationship with Llano Estacado, the winery that produces the Monte Stella Label, allows us to bring our club members this fine Monte Stella 2017 Sauvignon Blanc from The Texas High Plains.
Monte Stella Sauvignon Blanc is dry and crisp, displaying ripe citrus and exotic tropical fruit aromas. The wine's zesty mouthfeel is complemented with firm acidity and a lingering citrus finish. This wine refreshes the palate with every sip.
Become a member of the best wine club in town!  Personalized Selections!  Amazing Value!  Flexibility!  Our wine club offers this and much more on Premium wines that are Aged to Perfection!  Receive FREE wine daily, Discounts in store, and invites to Exclusive events with our winemaker!  100% Satisfaction Guaranteed!
Are you new to our wine club and have questions about our pickup parties? Pickup parties are a great way to meet other club members and get more connected to our wine-loving family!  Enjoy live music and be the first the taste our new releases!  If you have further questions about pickup parties click below to find answers to those questions!
Join our mailing list and be the first to know about our new wines, events and special offers!