Day Trips and Weekend Getaways in North Texas
Road trips. Day trips.  Weekend getaways.  Finding that hidden gem in your own backyard is a favorite pastime here in North Texas.  Being downtown "on the square" is a big thing.  Most of these landmarks are of historical value from many years past, when the hub of a small town was generally known as "The Square".  This is where you could take care of your business!  Banking, post office, general stores, etc., all with easy access.  Nowadays, we find new businesses occupying the old historic buildings, making for terrific day trips as well as weekend getaways!
Explore the Culture And History of Downtown McKinney, Texas
When it comes to historic squares in North Texas, the one that stands out as the perfect model is of course, McKinney Texas.  The pride of the locals calling McKinney their hometown is as big as Texas itself.  This beauty is centered around the historic courthouse which was remodeled in 2006.  The square's charming centerpiece currently serves as the McKinney Performing Arts Center.  A tour of this magnificent building with tidbits of historical trials is well worth your time.  Their calendar of events is filled with entertainment of cultural arts and big-name headliners.
Lively Downtown Square
Shopping....
Travel back in time as you stroll the isles finding aged treasures at the Antique Company Mall.  Stumble across that unique gift for your hard to shop for loved one.  Browse boutiques such as Cotton Hearts,  Orisons, and Glitzy Girlz, where you will find one of a kind tees, dresses, boots, and every day special occasion attire, all within walking distance.  Let's not forget to complete our fashion statement with a stop at Pumps, where you will find the most modern designed fabulous footwear.
Hidden Treasures In Every Corner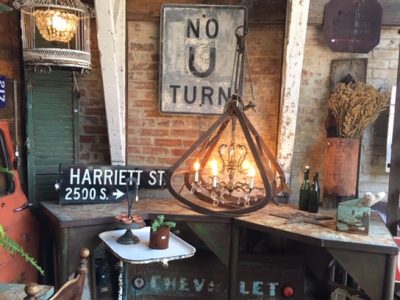 Dining and Libations....
Farm-To-Table and Sophisticated Comfort
There are specialty shops galore, exceptional dining experiences, including Harvest, a farm to table gem. This delightful restaurant offers a seasonal menu with focus on local harvest and farm raised meats. There is also the special treat of Ricks Chophouse, a place to celebrate and enjoy exquisite service, unparalleled food, and sophisticated comfort.
Whiskeys and Wineries
For a traditional stout or whiskey you will find The Celt Irish Pub, a lively hangout offering traditional Irish fare as well.  Award-winning Texas made wines await you at  Lone Star Wine Cellars.  Every bottle has a story to tell unveiling four generations of wine-making in this family operated winery.  There you will enjoy an evening of live music and excellent wines handcrafted locally.  They even offer an exceptional Wine Club for their customers.
Beautiful Winery In McKinney Texas
At the end of the day....
As a final stop after a day of strolling the square with shopping, eateries,  and amazing wine, you will want to retire to the gorgeous Grand Hotel, where you will reminisce of your visit and plan your return to this little piece of history located in beautiful North Texas.
MCKINNEY'S PREMIUM WINE CLUB!
Become a member of the best wine club in town!  Receive FREE wine daily, discounts in store, and invites to exclusive events with the winemaker at Lone Star Wine Cellars!
CATCH US AT THESE EVENTS!
Your neighborhood winery hosts wine-pairing dinners, wine-blending events, wine-trail events, arts and crafts and much more!
BE THE FIRST TO KNOW!
Be the first to know about new wine releases, events and special offers at your neighborhood winery, Lone Star Wine Cellars.