4th of July Party On The Square – Downtown McKinney's First Winery Is Calling All Grapes For The "Red, Wine, and Boom! Parade"
The sweet sound of popping corks has blessed Downtown McKinney, Texas since 2003 when the town square celebrated the opening of its first winery!  Tucked away inside the Ritz Theatre Building, many visitors of the square have missed this little hidden gem, but Lone Star Wine Cellars doesn't go unnoticed at McKinney's annual hometown 4th of July, "Red, White, and Boom! Parade" when the Lone Star team pulls out all the stops to share their patriotic spirit and love for great wine with their neighbors!
4th of July Party Starts 3rd of July - Building The Float
The 4th of July party for Lone Star Wine Cellars starts on the 3rd of July as customers join the Lone Star team in decorating a float that depicts their "Home Away From Home".  The get-together occurs at a historic home just blocks away from the winery.  The party is kicked off with wine of course before chipping away at building their masterpiece.  All are invited to join in on the neighborhood fun!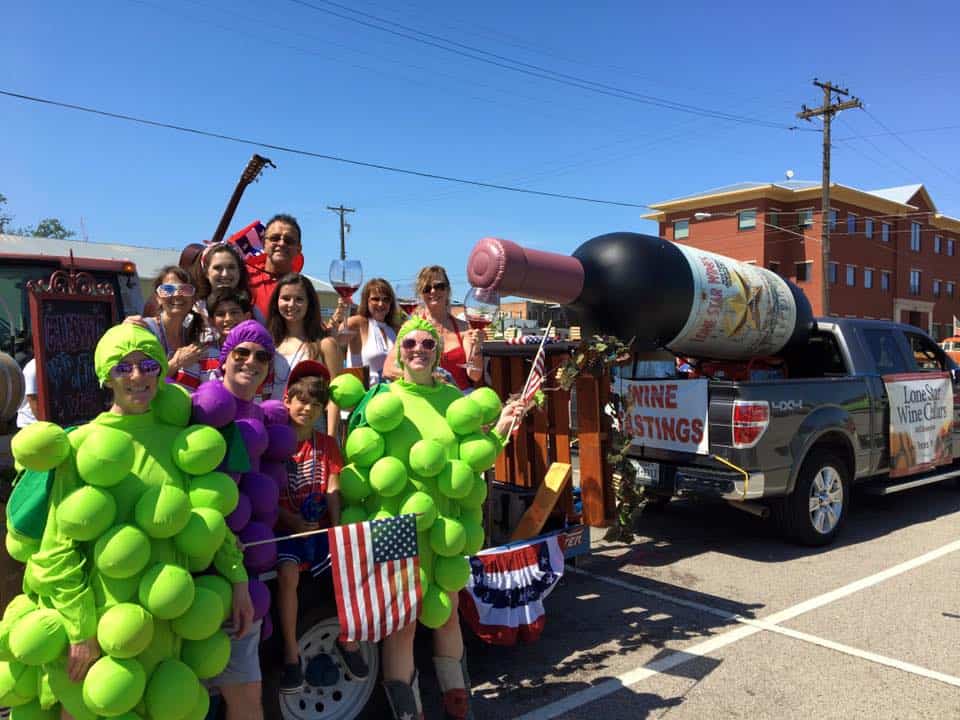 Year after year, the team recreates the charm of Lone Star Wine Cellars on a 35 foot parade float complete with live patriotic music energizing the crowd and a 14 foot wine bottle pouring wine into customer's giant glassware as they are seated at an 8 foot bar.
On The 4th Of July Parade Route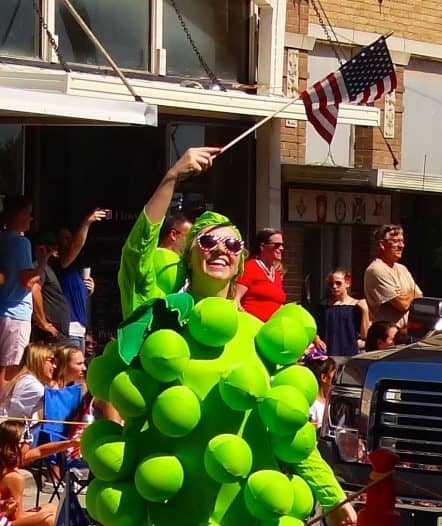 On the parade route, owner Becky Ross, channels her inner cheerleader days at McKinney High School leading an army of grapes in chanting wine cheers.  Instead of cheering for the McKinney Lions she routs for the Big Red Cabernet and celebrates colors of Red, Wine, and Blue!  Lone Star Wine Cellars invites all spirited wine lovers to join their float decorating party or become a member of the Grape Bunch that entertains spectators of all ages at the parade!  (beckyross@lonestarwinecellars.com).  If you miss the pre-party be sure to drop into Lone Star Wine Cellars after the "Red, White, and Boom! Parade" for half-priced Wine-A-Ritas!
What to expect from your visit to this winery in McKinney
Whether you are new to McKinney or have enjoyed visiting the downtown square for years but just haven't found Lone Star yet, there awaits a smiling crew of customers seated at the bar of Lone Star Wine Cellars eager to welcome you to their weekly hangout!  Those that experience the charm of Lone Star quickly become regulars of this quaint establishment and enjoy the perks of their stellar wine club daily!  Lone Star's success formula is balanced with great wine and strong friendships old and new!  The vibe is something very special to experience so be sure to stop by after the Red, White and Boom Parade!
LONE STAR WINE CLUB!
Become a member of the best wine club in town!  Receive FREE wine daily, discounts in store, and invites to exclusive events with our winemaker!
CATCH LONE STAR AT THESE EVENTS!
Don't miss us at the many events we host throughout the year!  Check out our Wine-pairing dinners… Wine-blending events…Festivals…. Wine Trails… Arts and Crafts… And Much More!
BE THE FIRST TO KNOW!
Join the Lone Star mailing list and be the first to know about newly released wines, events and special offers.